Sterling Silver Hoop Earrings
(320 items)
Explore NOVICA's Silver Hoop Earrings Collection. Discover the finest traditional and contemporary designs from around the world. From small silver circles to elaborate shoulder dusters, these unique designs showcase the myriad artistic interpretations of this enduring style of earring.
Related Articles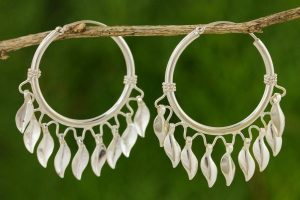 As is often the case with trends, what's hot at one moment in time will cool, down and then eventually become... read more
Sterling Silver Hoop Earrings
Novica is proud to present our collection of unique sterling silver hoop earrings, handcrafted by talented silversmiths with skill and precision. Our sterling silver hoop earrings are embellished with pearl, turquoise and garnet, among others. We hope you enjoy!