Featured Reviews
By Judy
"Delightful"! One for me - and one for a friend!
I know I can't go wrong when I buy Novica ornaments to give as gifts. I hung one on my tree and gave the other to a friend. She loved it.
By Janet
SO PRETTY AND WELL MADE,
I wish that I had purchased more of these really pretty and well made golden grass ornaments. They look gorgeous on my Christmas tree!
Featured Artist
Eufrosia Pantaleon
Colorful ceramic masks, suns and moons
"We belong to a Nahua community where there's a lot of poverty, so I've had to go beyond our village seeking to place my crafts so I can provide for the family."
"I was born and raised in a small village in the state of Guerrero, and I learned at a very young age how to paint on ceramic. My father taught me, and I can still remember the very first piece I painted – it was a lizard. Unfortunately we didn't keep it as my parents had to sell it. That was in the 1990s and I've never stopped since.

"Due to our family's financial situation, I was only able to go to primary school. Painting and decorating ceramic not only represents a way to make a living, but to me it's an art form that allows me to express my feelings and capture the beauty of nature.

"I've shared all my life with my wonderful family, but I've taken over the reins since father passed away a few years ago.

"We belong to a Nahua community, where there's a lot of poverty. I've had to go beyond our village seeking to place my crafts so I can provide for the family. It makes me very happy to be able to show people what I can do!

"Everything you see I painted by hand, and I'd like you to know that everything I make carries a piece of my heart.

"I've been working with Novica now since 2012. Before that, I took in laundry to wash and did odd jobs in the countryside. I always thought of my ceramics as a complement for my basic needs and those of my children.

"A man named Eduardo Escamilla told me about Novica. He said it was a beautiful project that could help me support my children and I took the opportunity.

"At first, I found it hard to adapt to the quality standards Novica needs — perfection in colors and I had to try to make sure that each design was always as nearly the same as possible. This took time but we achieved it when my brother began helping me with the painting.

"Today, I've been able to give my children an education, pay our rent and even take us on vacation.

"One of the things I've noticed from working with Novica is the attention to each detail of each piece and to each artisan. I love knowing I've got a mid-term investment that works.

"I feel grateful to work hand-in-hand with Novica."
Popular New Arrivals : Holiday Decor
Related Articles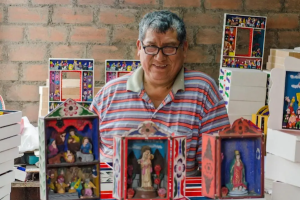 Alejandro Chavez began learning the art of Ayacuchan retablos, or dioramas, at a very young age. But a war... read more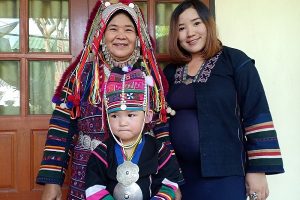 Of all hill-tribes located in northern Thailand, the Akha are the most notably expressive and flamboyant with... read more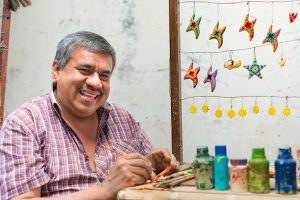 His house is well-lighted because it is built around a small interior garden. His living room is adorned with... read more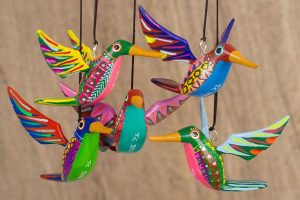 It's springtime! Dark skies, cold winds, and bare trees are behind us! Assuming that you love all things... read more